Happy Valentine's Day Style Babes!
This Valentine's Day outfit inspiration is brought to you by the sneaker chick who's not afraid to speak her style. When a lot of people think of Valentine's Day, the first thing that pops in mind is a sexy banger fit with some high heels. Nothing is wrong with that (hands up). I just prefer to be in the comfort of my kicks no matter what occasion. I've worn heels on numerous occasions. There's a reason for this! I wanted to show those that are afraid to step out of their style zone, that I am capable of stepping out of my comfort zone as well.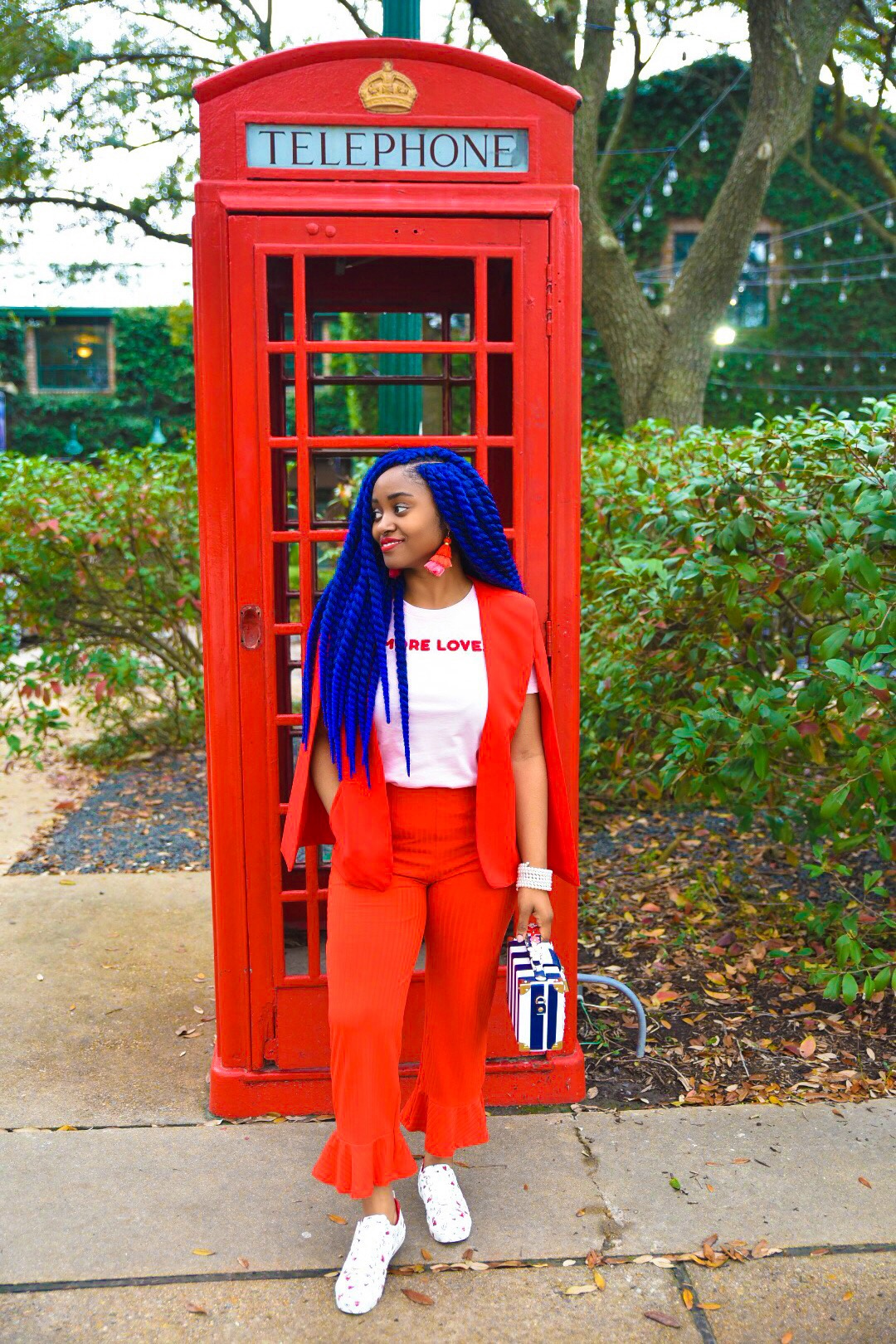 Still Outfit Searching?
A lot of us women are cooking up scrambled brains trying to execute the perfect ensemble for date night and really all your guy wants to do is spend this special day with you. To be honest, he probably won't even notice the tons of money you spent pampering yourself a week before Valentine's Day just for him. Guys are so simple ladies, so don't pressure yourself. You can be sexy, just own it. It's always easy if you go with a nice jumper or dress. It will definitely lessen your worries of finding a top and bottom! For my date night with my loved one, he is already prepared to see what kicks I will be rocking. My look today is a mixture of various styles. I'm giving you chic with the blazer, sporty with the T-shirt and sneakers, and boho with the fun ruffled bottoms. Are you diggin' it? Find out where I got my grabs from below!
What am I Wearing?
I thrifted these layered fringe earrings and fun Ruffled Zara bottoms from Crossroads. My Graphic T-shirt is from Forever 21. It's a cool T-shirt to have because you can also rock it with jeans, shorts, and skirts. Pretty much anything! I snagged this Red Cape Blazer from Beehive, one of my most favorite places in the world to seek style sanctuary. They have some of the most funkiest pieces. My floral purse is from Aldo! It also has a chain in case I want to rock it as a crossbody. It's the perfect bag to crossover into the Spring time!
These cool Valentine's Kicks are from Aldo. I know a lot of people get weird about having holiday items that can't be worn again after the holiday. Screw whoever came up with that "rule". I plan on repeating these Valentine's Day kicks and giving them a twist! Live through your clothes, don't let your clothes live through you. If that makes sense.
Wrapping Up!
For my heel lovers, my look can also be worn with pumps, strappy heels, and ankle heeled boots. I'm sure you ladies are still making last minute changes to your outfits. Think about what I said earlier! Pull out those jumpers and dresses, as those will make your life easier for sure. Putting on a red lip will definitely give your look a pop. Need last minute advice? Comment below! I'd love to lend a style hand. Remember to always style your fullest.
Style-fully,
Rinnie P.