Labor Day is near, but I bet a lot of you still haven't found your Labor Day outfits? Am I right or wrong? It's okay if I'm right :) We all have normal tendencies to search or shop for things at the last minute! No worries, I have a few tips to help you create your Labor Day look today. First, keep reading to find out about my outfit of the day!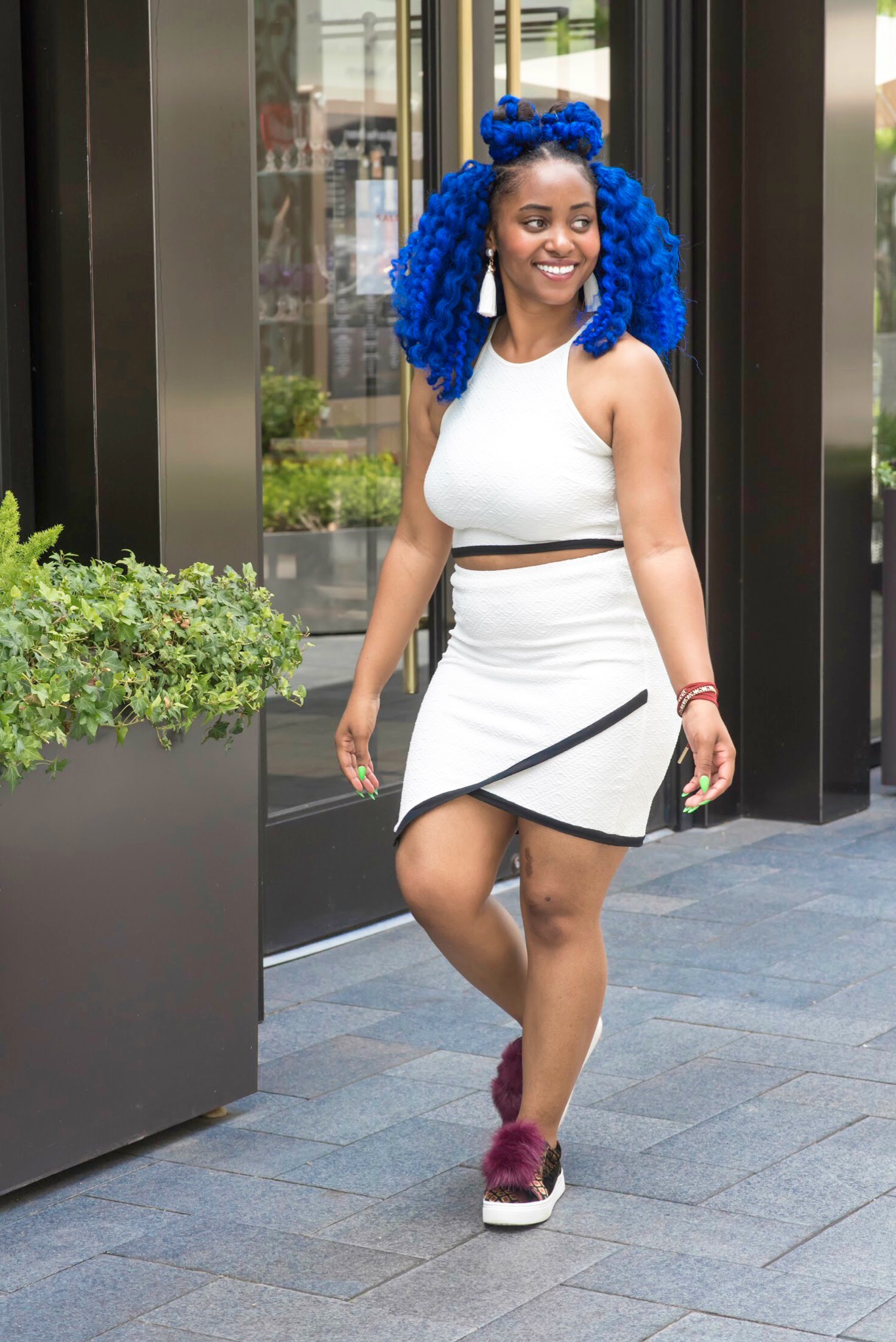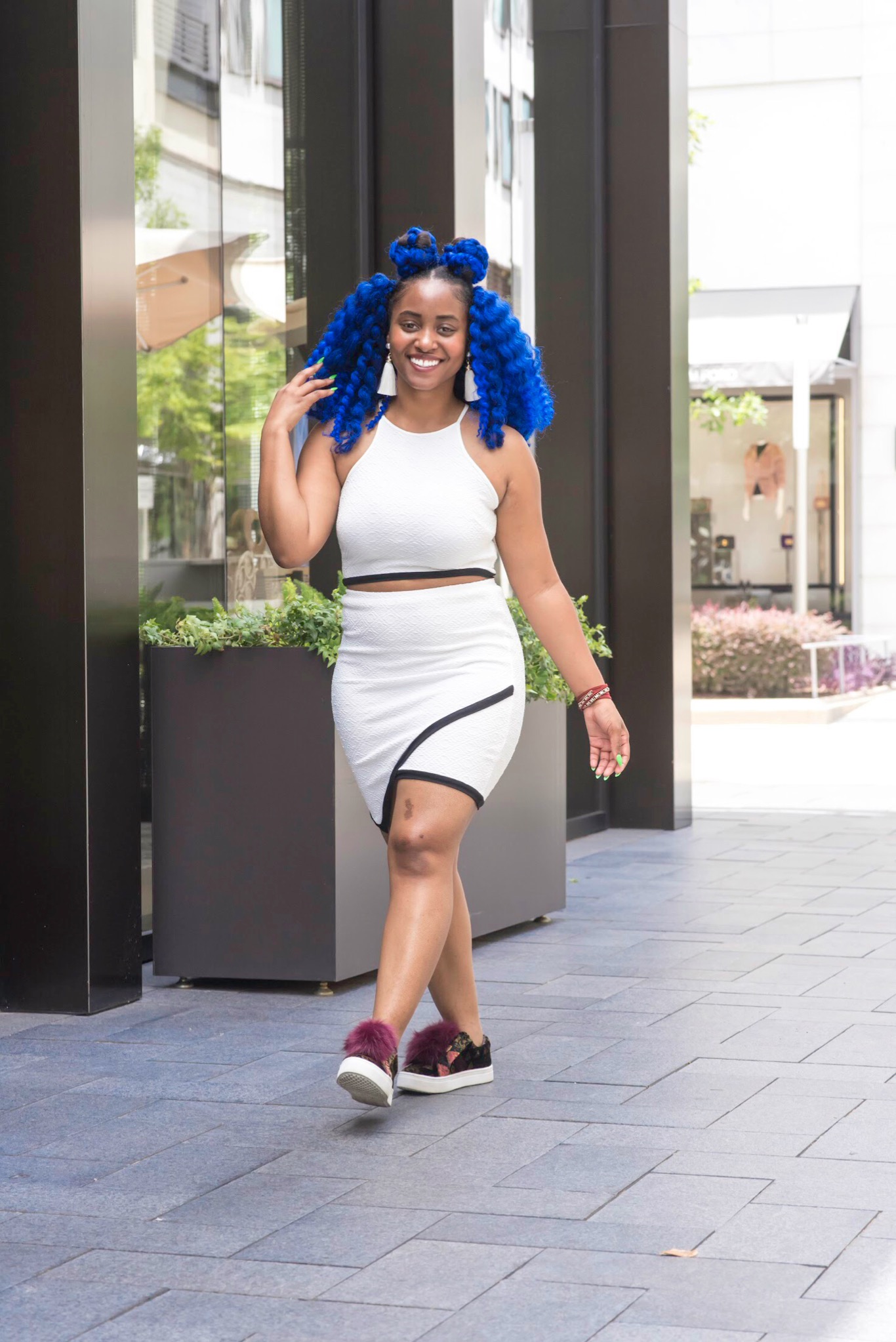 What am I Rocking?
Noble Luxe literally swooped in and saved my Labor Day weekend look! I'm rocking their all white halter top and skirt two-piece set trimmed in black. This set is super stretchy in the fit and is super universal. I can dress it down with sneakers or throw on some heels if I'm hitting the town for the night. It's a win-win!
See these cute tassel earrings I'm wearing? They're from Noble Luxe as well! I recently discovered Noble Luxe and was easily drawn to their merchandise. Do you know they are newly launched? Noble Luxe opened up their online fashion doors on June 18, 2018. They carry various fashionable styles for women such as: casual, chic, sexy, grunge, boho, sporty, and more. Whether you're a casual or fun kinda girl, they will have you covered!
Do you see the printed details in this set? Oh my gosh, I just love it!
Can't forget about the shoes! Theses cuties are great for the Fall and Winter. Actually, they're by Sam Edelman and guess what? I thrifted these babies at a consignment :)
3 Tips for Creating Your Labor Day Look
Here's some easy tips to help you create your Labor Day outfit:
Wear all white.

Wear a pop of color.

Wear a look that you can dress up in case you plan to go out the evening of ;)
I know you're probably like, "I know this color lover isn't encouraging me to wear all white." Yes I am! Make it easy for yourself and wear all white. Yes, it's the traditional way to celebrate Labor Day, but it's also an easier way to put your look together without the hassles. Choosing a two-piece set, romper, or dress would be such an easy style! From there, choose your shoes and accessories to complete your look. Don't be afraid to add those pops of colors! Your shoes can be of various colors like red, blue, pink, orange, purple, green, and black. You don't have to go with colorful jewelry, but choose a metal that looks best: Silver, gold, or rose gold etc. If you plan on having a night out, make sure you grab a pair of heels. Because I wear sneakers on the daily, I keep one pair of heels in my trunk in case I have to go somewhere that requires heels. I hope this helps :)
Closing out!
This wasn't my usual color filled look but I enjoyed every bit of it! The fit and versatility is what got me. Make sure you shop Noble Luxe for your future fashion needs. They have everything you need from cool apparel to accessories. Follow them on social media to stay updated with their new arrivals, announcements, and more.
Stylefully,
Rinnie P.
P.S. Is your Labor Day outfit already planned out? If so, what are you planning to wear? Feel free to like, comment, share, and subscribe. Thanks for reading!